Building your event community with FLOOR
The massive spike in digitalization has opened up a lot of avenues for businesses. These days people are always in touch with each other via several digital platforms.  Thus, even companies are continually striving to expand their digital presence. They are focused on establishing their virtual identity to stay connected with their users at all times!
One very effective way to do this is by building a online event community. As per a recent report, it is believed that 88% of Community professionals think that creating a community is critical to a company's mission
Virtual Communities of the past
The idea of an online community has been around for more than a decade. According to a 2016  CMX report,  85% marketers believe that having a branded online community enhances customer trust and enriches their journey with the brand.  
Companies have tried various platforms like social media, forums, discussion boards for community building. These platforms might work on a short-term basis. But it would help if you had a smarter alternative as your company and community grows with time. There are several problems that business owners face when building a community on public platforms like LinkedIn, Facebook, Discussion Boards, and Forums. 
Here are a few drawbacks of community building on these platforms:
Social media is vast and has a plethora of topics trending on it at any point in time. While this is considered a benefit, it can also be a massive drawback for dedicated communities. Diverse content can cause distractions and disengage your members.

With options such as one-to-one, one-to-many video calls gaining momentum this year, discussion boards and forums have become static and less flexible. They lack face-to-face interaction and, therefore, generate less impact and relatability. This means you lose out on substantial customer engagement if you're not leveraging video conference technology's benefits.  

There is less ownership of the information you put out there. Depending on the social media guidelines or rules, your data can be removed, modified, or banned without any notice. Anybody can report your data with/without any real issue. This means you have significantly less ownership of your content and are subject to a third party for approval.

Anyone can access your information, which can cause a leakage of critical information outside the community. It can also lead to reusing your data without consent. 

Users can spam, post irrelevant comments, and unrelated links. This can cause a dent in your community's authenticity and result in a bad customer experience for your genuine members.
Listed below are the benefits of having a dedicated online community platform:
An online community helps the users stay updated about your brand news, updates, offers, and policies. They feel like they are entering the brand office/space. It gives them a platform to learn, share, and collaborate with you and other community members. 

Improves brand engagement with customers and members. It provides for two-way communication between the brand and the users. According to a

recent report

, 90% of communities say that suggestions that arise in the community improve the company's product or services. It is an excellent platform for problem-solving and building a positive customer experience. Customer feedback, ideas, and suggestions often give rise to innovative approaches.

You have the flexibility of choosing to keep your community private/public or keep switching between both. Similarly, the data exchanged or shared in the community can be kept private or public at all times. 

When you provide users a platform to voice their opinions, concerns, and problems, it increases their trust in you and boosts customer loyalty. With quick resolutions, assistance, and information threads, your company enhances the Customer Experience (CX) that can add to your brand's credibility.

A virtual community gives rise to a lot of user-generated content concerning your brand. This can boost your SEO score and fetch you more leads, especially if you have a positive word of mouth going!

Dedicated online communities grant you all the rights to moderation, objection, or censorship of any posted content. The portal gives power to the owner to make it a safe place for its members or users.

When using software for online communities, you can get some analytical tools to check the community's statistics. Along with that, detailed customization of your organization can be done with such software. For example, suppose there is a customer who posts an issue he is facing with your product. In that case, his matter can automatically be converted to a ticket and forwarded to the CRM for instant support.
To leverage the numerable benefits of a dedicated community platform, you can choose the trending method creating a virtual event for your community. When you choose to engage with your community via a dynamic virtual event platform like FLOOR, you get many flexibilities and innovative options to use! FLOOR has changed the face of the virtual event industry and attracts an audience from several countries.  
FLOOR, powered by 10times, has some path-breaking and unique tools that make it easy for you to engage your community members. 
Let's have a look at some of its exciting options & tools:
1.Discussion Boards
The host of the virtual event can keep updating the discussion board. Each session, they can pick a new asset. Discuss topics that are trending and related to your brand specifically, to keep the flow relatable and relevant to the audience. Just imagine, your entire community LIVE at once – on a single platform. What an excellent flow of ideas and content it would be!
2. No Downloads, Easy Login and Multiple Device Friendly
When you build a community on Facebook, Linkedin, or Twitter, your members must have the respective application to get the best user experience. But with FLOOR, you don't need to download a third-party application to host an event for your community. It is as simple as logging indirectly from a browser. You can join using your invite code and sign in with your existing accounts on Facebook, LinkedIn, or Google. 
FLOOR works across devices, so whether your audience primarily uses mobiles, laptops, tablets, or desktops, anybody from any country can easily access and participate in your event. With no technical hassles, you can expect users across nations and ages to attend your virtual event.
3. Live Interactions as well as Q&A
In the communities built on social media and forums, the user has to wait to get an answer to their query till the moderator or owner comes online and chooses to reply to him/her.
With FLOOR, you can use the option to raise your hand or initiate a QnA for live interaction, live questions, and answers to all your queries. This gives the members more liberty and participation as compared to other platforms.
4. Unlimited community members
When you create a WhatsApp group or telegram group for your community, it comes along with certain limitations. For example, only 256 members are allowed per group on WhatsApp. With your virtual event on FLOOR, you can have unlimited participants and multiple sessions running at once without any hassles.
5. Recorded Sessions
With FLOOR, you can record the session and keep it handy for later use. Other than that, community members who might have missed out on the value added by your virtual event, can always refer to the entire session at their choice of time.
6. Share Screen in real-time
Yes, we can post pictures and graphs on social media & forums. But is the experience as elaborate as real-time knowledge sharing? No.
You can share your screen from the comfort of your home a real-time basis. While other video calling options might restrict you to just video calling, with FLOOR, you can engage your community with real-time screen sharing.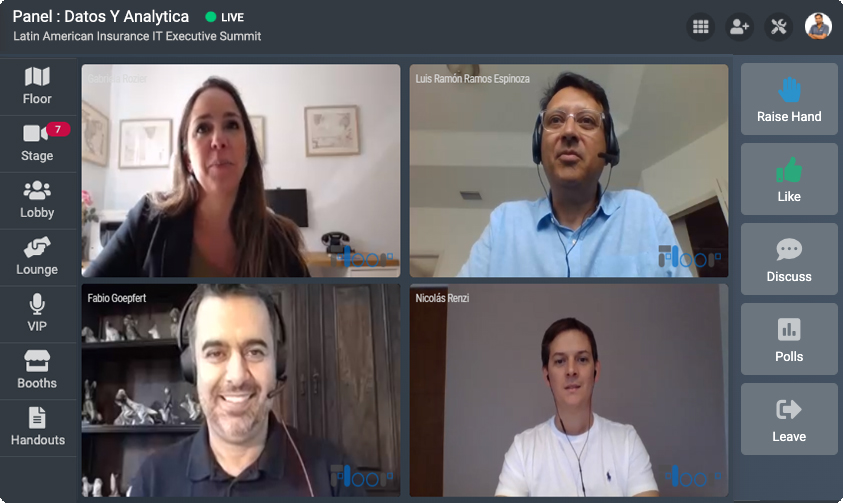 7. Provide an online event experience that feels like real
You can have dynamic booths of your choice when you host a virtual event with FLOOR. Set up a waiting area, enable live networking, and give people a place to wait between back-to-back sessions.
Like most events do, if you too have a sponsor for your event, you can effectively showcase their banners and names on the sponsor ticker. You can also create a ticket set up to restrict access or manage all the registrations for your event. 
8. Full Access Control 
As the owner of the virtual event, you have full access and control over each part of the FLOOR. You can create tickets, give permissions or kick/ban users, restrict entry, or moderate content. According to your requirement, you can also provide responsibilities and power to the hosts, panelists, and participants.
9. Face to face Interaction
An audio conference or a text discussion might not provide the best result for engaging a vast community. Face-to-face interaction is essential to build more trust and authenticity for your brand.
10. Prepare for your audience
Now, if you hold a virtual event, you can quickly start promoting it well in advance. This will lead to people marking their calendars for your event. Some members might even RSVP, yes or no. This gives you a real-time idea of the audience and helps you prepare accordingly. 
11. Flexibility
 Suppose you are hosting an event on 30th December. But due certain issues, you have to cancel it and postpone it to the 12th of January. What do you do in that case? Just update your event's status on 10times, and all the members interested in your event will be updated regarding the same, all at once.
With FLOOR, you can grow your community and continuously engage it with diverse options for virtual events. Hosting events throughout the year, whether it is a product launch, talk show, workshop, or a fair, is an effective way to engage your community and build customer loyalty.
Let's Build Stronger Community Together
Set-up a call with one of our Event Success Consultants
GLOBAL COMMUNITY
Used by over 25000+ organizers around the world to build & grow their community