Investor Call events need high level of permissions and control, to ensure everything is managed as per the internal and legal filing requirements.
Smooth . Scalable . Secure
Investor Call and Quarterly Earnings Report Events needs a solution that is highly reliable, easy to use and provides all the tools needed to meet the required outcome.
From an engaging presentation view to allowing seamless Q&A with the audience, by inviting them Live on stage, virtual Investors Call create new options to drive the brand's message.
BUILD YOUR OWN FLOOR
Create virtual events by mixing and matching pre-build setups
Go inside FLOOR through Ticket, Invite Code or Login
Use 'Stage' to jump to different sessions / rooms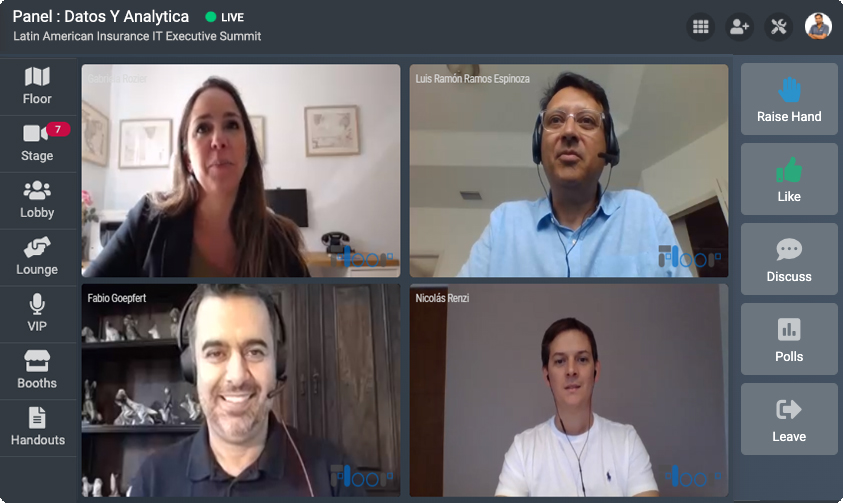 Set, meet and network with fellow participants
Grab a table with other attendees or watch before joining an ongoing table
Expo section of the event. For 1-to-1 meetings with exhibitors and sellers, head to booth area
Limited entry space created by the organizer. To enter, you must be pre-authorized
Facing an issue, enter the reception to find an event admin, or watch instruction videos
Get a visual representation of the entire event in one snapshot
Investor Calls & Quarterly Report Events need a virtual event solution that –
Has No limit on the audience size
Host 10 or 100K audience in a single event. Works on both desktop & laptop
Enables Smooth Speaker/Presenter Experience
Speaker experience has to be smooth. You need a backstage to co-ordinate and 'magic' single click login
Gives level of control on the engagement
Easily choose and setup the engagement you want to allow from discussions, chats, Q&A, polls, etc.
High quality HD Streaming
Stream in HD quality to ensure best virtual experience
Is device friendly and low bandwidth
Audience should be able to attend from the desktops, laptops, phones and ipads, with basic internet connection
Allows white-labeling for branding & customization
Setup the event on your company url, with your company's identify
FLOOR is the Most Customizable Virtual Conferencing Solution which works for both virtual & hybrid event formats. Mix your live sessions with pre-recorded sessions to meet event need
GLOBAL COMMUNITY
Used by over 25000+ organizers around the world to build & grow their community