Virtual Conference Platform
Create, Manage, Host & Market Your Virtual Conference From a Single Space
Deliver an Impactful Virtual Conference
Conferences & summit are driven by content and need to keep the audience engaged. Without the right solution, you could be missing the opportunity to give the best possible experience. Virtual or Hybrid event, your Virtual Conference platform should be robust and scalable.
BUILD YOUR OWN FLOOR
Create virtual conference by mixing and matching pre-build setups
Go inside FLOOR through Ticket, Invite Code or Login
Communicate the story of your event via your own website
Use 'Stage' to jump to different sessions / rooms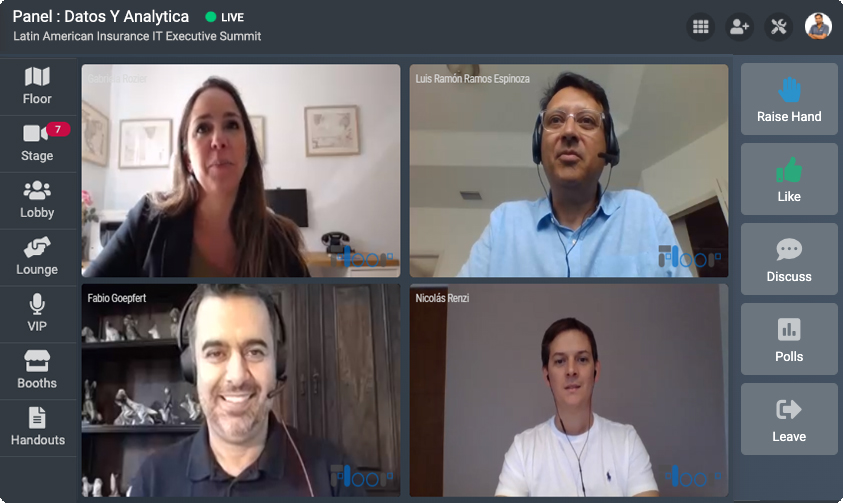 Set, meet and network with fellow participants
Grab a table with other attendees or watch before joining an ongoing table
Expo section of the event. For 1-to-1 meetings with exhibitors and sellers, head to booth area
Facing an issue, enter the reception to find an event admin, or watch instruction videos
Get a visual representation of the entire event in one snapshot
You need a virtual conference platform which understands your concerns
No limit on the audience size
Host 10 or 100K audience in a single event. Works on both desktop & laptop
Easy to navigate & manage
A single dashboard to manage all the action and also make changes in real-time
Host Parallel Session
Run multiple sessions on your agenda simultaneously while easily managing them
High quality HD Streaming
Stream in HD quality to ensure best virtual experience
Smooth Speaker Experience
The speaker experience has to be smooth. You need a backstage to co-ordinate and 'magic' single click login
Multiple formats & setup
Most a keynote, panel-discussion or a workshop. Each needs a setup that easily adapts to the event format
FLOOR is the Most Advanced Conferencing Solution which works for both virtual & hybrid event format. Have a welcome video, show sponsers in dynamic standee or logo on stream
GLOBAL COMMUNITY
Used by over 25000+ organizers around the world to build & grow their community