Virtual Fairs & Festivals
How to organize an interactive and engaging cultural event
Fairs & Festivals are our Community's Lifeline.
We need them now, more than ever. If you are hosting one, we can make it fun on a virtual fair platform.
There can be limits on how immersive an online event can be, not much to touch & feel, but there is enough to keep your audience engaged. Host live sessions of any type, make it easy for your users to participate and feel part of a community.
BUILD YOUR OWN FLOOR
Create virtual events by mixing and matching pre-build setups
Go inside FLOOR through Ticket, Invite Code or Login
Use 'Stage' to jump to different sessions / rooms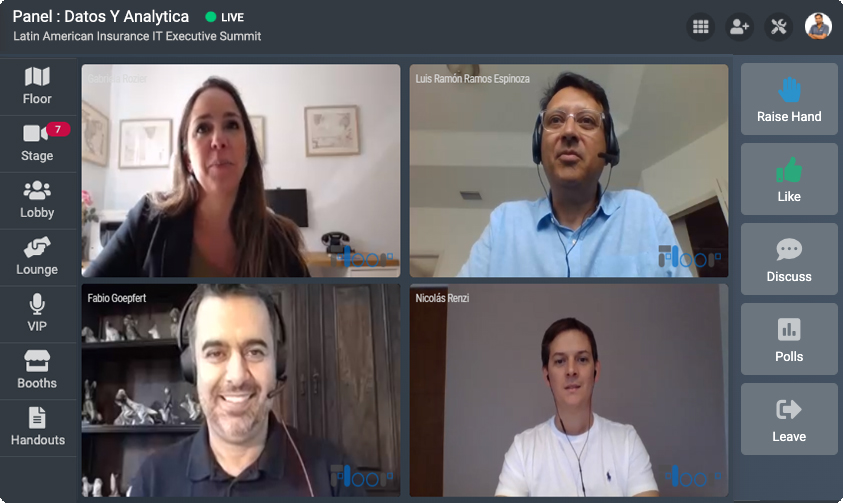 Set, meet and network with fellow participants
Grab a table with other attendees or watch before joining an ongoing table
Expo section of the event. For 1-to-1 meetings with exhibitors and sellers, head to booth area
Limited entry space created by the organizer. To enter, you must be pre-authorized
Facing an issue, enter the reception to find an event admin, or watch instruction videos
Get a visual representation of the entire event in one snapshot
You need a virtual event solution which understands your concerns
No limit on the audience size
Host 10 or 100K audience in a single event. Works on both desktop & laptop
Easy to navigate & manage for planners
A single dashboard to manage all the action and also make changes in real-time
Host Parallel Session of live or pre-recorded sessions
Run multiple sessions on your agenda simultaneously. Make them live or pre-recorded, to meet your goals
High quality HD Streaming
Stream in HD quality to ensure best virtual experience
Smooth Presenter Experience
Speaker experience has to be smooth. You need a backstage to co-ordinate and 'magic' single click login
Multiple Formats & Setup
Host a keynote, panel-discussion, or workshop. Each needs a setup that easily adapts to the event format
FLOOR is the Most Advanced Conferencing Solution which works for both virtual & hybrid event format. Have a welcome video, show sponsors in dynamic standee or logo on stream

Mix your live sessions with pre-recorded sessions to meet event need
GLOBAL COMMUNITY
Used by over 25000+ organizers around the world to build & grow their community