Event with in-person attendees as well as attendees connected via audio-video conferencing
Expand Your Reach With The Best
Hybrid Event Platform
With 2020 turning the world upside-down, virtual is a reality. It's a channel that has opened up, however, it is not a replacement for what event planners do. Events bring people together with a purpose.
You might be considering a hybrid version of your event which leverages both in-person and virtual at the same time. This would increase your reach and also improve the conversion rate (the number of people who show interest and then actually attend).
It's time to reap the benefit of virtual and expanding your events reach with hybrid format.
BUILD YOUR OWN FLOOR
Create virtual & hybrid events by mixing and matching pre-build setups
Go inside FLOOR through Ticket, Invite Code or Login
Use 'Stage' to jump to different sessions / rooms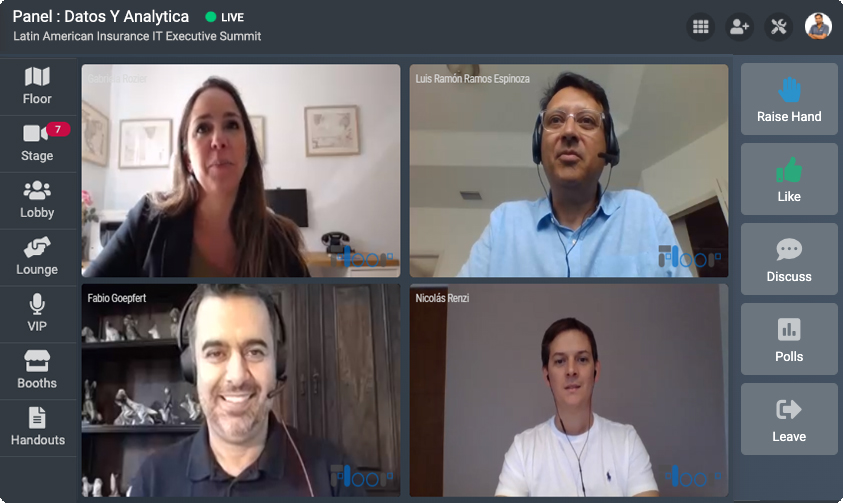 Set, meet and network with fellow participants
Grab a table with other attendees or watch before joining an ongoing table
Expo section of the event. For 1-to-1 meetings with exhibitors and sellers, head to booth area
Limited entry space created by the organizer. To enter, you must be pre-authorized
Facing an issue, enter the reception to find an event admin, or watch instruction videos
Get a visual representation of the entire event in one snapshot
Managing both in-person and virtual at the same time can be hard, but not impossible. You need FLOOR hybrid event platform
Simplified registration process
No matter if the user is coming to in-person or virtual format, registration flow should be easy
Easy to use dashboard for event planners
A single dashboard to manage all the action and also make changes in real-time for the event planner
In-sync physical and virtual space
Give your exhibitors both a physical and a virtual booth to engage with their potential customers
Unified Pre-event experience
It should be easy for your participants to explore, plan, bookmark and prepare to attend the event
Smooth Speaker & Exhibitor Experience
Some of your speakers and exhibitor would be virtual or in-person. The platform should be capable to address them both
Digital Knowledge & Content Sharing
Events create a lot of content. It should be easy to upload and download the digital content
FLOOR is the Most Advanced Virtual & Hybrid event platform which gives you the tools to be successful. Enable Virtual Participation
Virtual users can feel part of the event with : Discussion, Q&A, Polls, Hand-raise, One-to-One chat, etc.

Increase Reach
Simultaneously cast your session to Facebook, YouTube or use the RTMP feed to stream on custom channels

Extend Branding & Sponsor Visibility Online
Have a welcome video, show sponsors in dynamic standee or logo on online event stream

Virtual FLOOR Design and pre-event action
Design a virtual floor as fun as your physical event. Allow engagement with a landing page & app pre-event

Recorded & Live Content
Mix your live sessions with pre-recorded sessions to meet event needs

Broadcast with RTMP or OBS stream
Stream your in-person event directly to the FLOOR
GLOBAL COMMUNITY
Used by over 25000+ organizers around the world to build & grow their community