Will Vaccines Make People Go Back To Events?
 Are you an event organizer who has canceled or postponed several events this year? You're not alone. A recent survey by PCMA found out that 87% of the event planners have canceled, and 66% have postponed their events due to the COVID-19 situation.
The live event business has been at a full standstill for the last few months. Big-ticket events were delayed or entirely canceled. Big and small events alike were canceled or shifted online as virtual events because of corona virus's looming effects.
Many event organizers are still taking stock of the situation. Some are still hoping that the physical event scene will return to 'normal.' Vaccine trials are happening globally. It is likely that very soon, there might be an effective vaccine administered for all the individuals worldwide.
There are several doubts and questions when it comes to vaccination. It could be about the side effects, its efficiency, or the cost. Considering the various factors of the vaccination drive, it is likely that countries might not ease down their lockdown immediately because of the 2nd wave of coronavirus. When nations continue to recover from COVID-19 and relax controls, there is a possibility of live events happening on a minor scale if not a large scale. 
With the increasing shift of events on virtual platforms, we at 10times believe that event organizers should start adapting to virtual event space if they haven't already.
Here are some statistics that you must have a look at:
A trend towards virtual events
93% of the event marketers plan to invest in virtual events in the coming time, according to a

recent survey

. 

Almost 50% of the respondents of a

survey by PCMA

said that the potential attendees of future events would be hesitant to travel and attend an event in person
Seven of ten respondents of the Event Marketer survey have shifted face to face events partially or fully to a virtual platform, and many believe that this is not just a 'short-term' solution. And it is here to stay.
People have arranged all sorts of events on virtual platforms this year. Name the occasion; it was available virtually:
Weddings

Conferences

Webinars

Theme Parties

Award Shows

Baby Showers

Trade Shows 

Exhibitions and Fairs

Games & Get-Togethers

Birthday and Surprise Parties

Educational classes

Talk Shows

Investor Meetings

Hobby Classes

Meet and Greets

Annual Events 

Training & Workshops
Any format, any sector, and a diverse target audience have been hosted online using a variety of virtual platforms on every occasion. As an event organizer, it is essential to start planning for the coming year 2021. A considerable number of corporate events are already planned, especially post-March 2021.
Here are some reasons why companies might prefer organizing virtual events moving forward as compared to physical events: 
Targeting a global audience becomes easier with a virtual event

Cutting down travel costs for attendees and hosts.

Saving business expenses when it comes to the venue, decoration, and catering.

No logistical restrictions.

Saving time in finding the apt venue

Getting real-time data analytics of the participation & audience

Recorded sessions of the event available for future access 
As an event organizer, it is crucial to warm up to a good virtual event software and make the maximum of it. There are many benefits to hosting virtual events. Every event organizer should be ready to shift to virtual events or at least be comfortable with a hybrid model that involves both face-to-face and virtual events. 
A virtual event software gives you many flexibilities. With in-person events taking a hit post-pandemic, many innovative event platforms lie at the forefront of the event industry. One such leading virtual event flagbearer is FLOOR, powered by 10times.
Here are some fantastic features of FLOOR that make it as good as an in-person event space, if not better!
Detailed Customization is available for Events-
You can customize your 'FLOOR' according to your requirement. You can set the landing page as per your choice.  There is an option of having a private meeting by creating a booth or board room. You can create several networking tables in the lobby – table for two, table for four, and even customize them with a specific brand name and logo. Unlimited participants can attend the event. There is no limit at all! Each booth has a feature of waiting area and an introduction video, which you can utilize and customize as per requirement.
Unlimited Mobility for participants
Participants can walk into your event, wait in the waiting area, or network post the event, between breaks – just like they do in physical events. There are interactive options of booths, lobbies, and lounge tables where people can meet, chit-chat, and talk. It opens up unlimited opportunities for collaboration, networking, and business growth.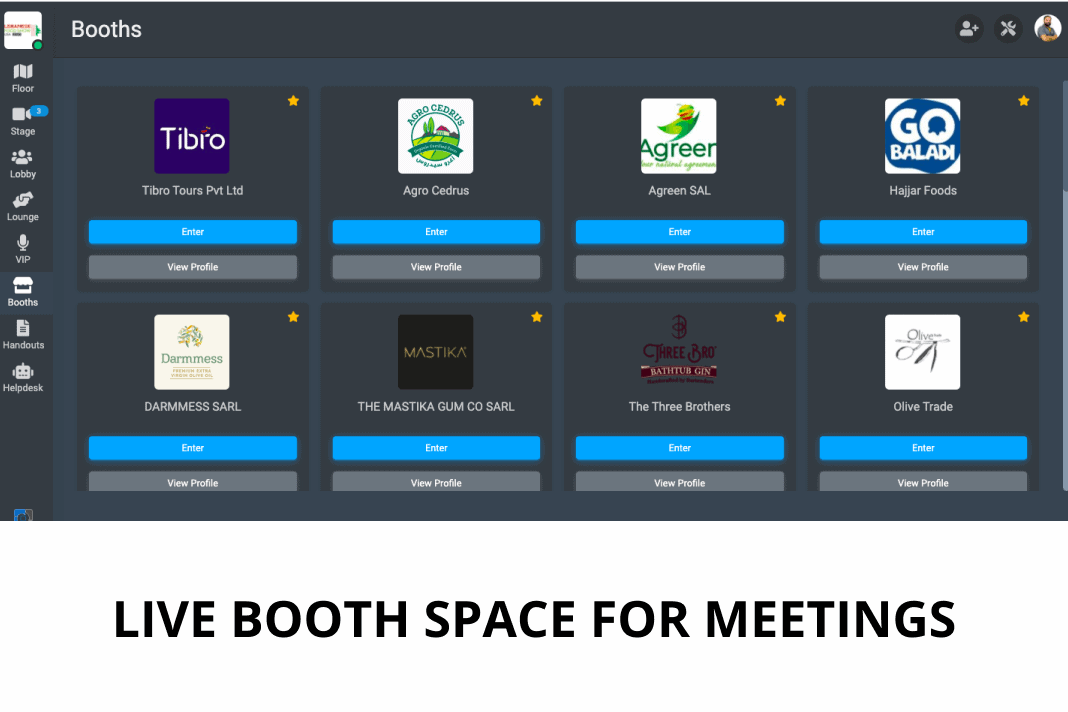 More Control and Authority
You can be in control of everything in your virtual event. Right from creating tickets to restricting access, you have the power to run your show the way you want. You can also give specific responsibilities to the host of the show, panelists, and participants for carrying out a smooth and successful event. 
Easy to Use
You don't need to be technically proficient to handle a virtual event platform like FLOOR. In fact, you don't need to download it either. Just log in using any of your social media accounts on a regular browser, and that's it! Even the navigation on the floor is as simple as Click and Go! Everything on the FLOOR is self-explanatory. It is suitable for all ages right from 11 to 80 years. With such ease of use, your audience will be able to access your event without any aid!
Stage Session & Group Session
For small groups and conferences, you have the option of a group session. Event planners don't need to worry in the case of large-scale stage performances too. Stage sessions on FLOOR can be utilized for big seminars, award shows, and concerts alike.
Festivity and Occasions
Whether it is Christmas or New Year, there are many festive themes available on the virtual event platform. Simply head to the settings from your Dashboard and select the Festive Mode. With diverse festive backgrounds, images, and greetings – any joyous occasion can be celebrated on the FLOOR.  Add sparkly lights, snowflakes, or music to your virtual event making the ambience party-like. Special welcome videos for festivities can be added to your event.
Sponsorship
If you are planning a huge event, it is only natural that you would have roped in sponsors for the event. Just like in-person events, you can showcase your sponsors' banners and advertisements on the FLOOR. How? 
There are unique sponsor tickers located at user-friendly locations on the screen of the users. It is placed strategically to give your sponsors substantial visibility yet not disturb the event or participants. You can also feature your sponsors in the welcoming video, banners, and networking tables.
Facility for recording the session
It is vital to have a full-fledged recording of the event hosted. It can be used for future reference, monetization, and value addition for the participants who missed out. With FLOOR, you can easily record the entire virtual event with the excellent video quality. 
Handouts
Suppose you have certain documents that must be available with all the participants before or during the event. In that case, you can upload it in the 'Handouts' option. This enables all the participants to download the handouts easily. Alternatively, the handouts can also be broadcasted in the lobby to attract more audience.
Interactive Sessions
Your audience doesn't have to stay mum while attending your event. Without interaction, your audience will not be able to engage with you. 
On the FLOOR, there are options to engage the audience through interactive sessions. With the QnA feature, polls, raise hand, and discussion boards, the audience can have a live discussion at the event. Chat boxes and video conferencing further add to the interactivity of the event. 
Live Streaming
Undoubtedly, it's the era of going LIVE on social media. If you want to reach a massive audience, you need to make sure your event is also streaming LIVE on social media platforms like Facebook and YouTube. With FLOOR's live streaming option, your event will go live to the global audience on these social media networks, from the FLOOR itself!
Easy Networking
Networking does not have to be restricted only for the duration of the event. It can be done pre-event and post-event too. There are waiting areas, lounges and lobby features on the FLOOR, which allow you to network one-on-one or in small groups post the event or in between breaks. These options are so versatile that you actually feel like you're walking into a seminar room and walking out in the lobby for networking and then walking back in! 
With so many fantastic features, the event scene is very likely to shift to the virtual platforms for good. Honestly, virtual is the future. And with the virtual event industry booming, event organizers must pull up their socks and get ready to go virtual if they haven't already.  As we say it, the sky is the limit, and the FLOOR is all yours to utilize and customize!
Be the first to get event industry updates !

Let's Build Stronger Community Together
Set-up a call with one of our Event Success Consultants
GLOBAL COMMUNITY
Used by over 25000+ organizers around the world to build & grow their community