Virtual events refer to the events that are organized online. They are held in the virtual space, if one may say so! These events are made exciting and engaging using several interactive features like QnA sessions, live polls, chatroom, discussion boards, gamification, booths, among others.
A platform loaded with these features and used to organize such a virtual event is a virtual event platform. Virtual event software platforms may have some or all of the several features mentioned above. They also offer many customization and management tools for efficient event management.
Best 5 Virtual Event Software Platform
With the number of virtual events going up drastically over the past few years, organizing a successful and engaging virtual event has become pretty challenging. But with the help of an effective, seamless, and flexible virtual event platform, this task becomes easier and more manageable.
However, choosing the right virtual event platform requires some research as it depends on several factors like the type of event, the scale of your event, and who your target audience is.
Let us look at the 5 most popular virtual event platforms in 2022 that you can use to organize your event.
1. FLOOR
FLOOR, powered by 10times, is a wholesome solution to create, host, organize and market virtual events seamlessly. It is essentially a complete virtual event suite perfect for organizing virtual and hybrid events on a single platform. One can easily set up an event, whether it is an award show, expo, meeting, roadshow, training, keynote conference, meetup, or others.
Event organizers can create a landing page to efficiently monetize and market their events. FLOOR is a secure platform as it provides the best-in-class systems and access permissions. It is the ideal event management software that helps you create, build, grow and manage your community. Here's why.
FLOOR provides a range of features such as management of attendance, vendor, ticket, calendar, badge, attendee, exhibit, campaign, website, lead, feedback, sponsorship, content, and speakers.
Its interactive features include private chat, video conferencing, polls, live chat, discussion boards, QnA, among others. It is a fully customizable platform that is the perfect all-in-one solution for event planners and community builders.
Affordable, customer-friendly, feature-rich, and fully customizable, FLOOR is the go-to virtual event solution of several agencies, SMEs, start-ups, and MNCs worldwide.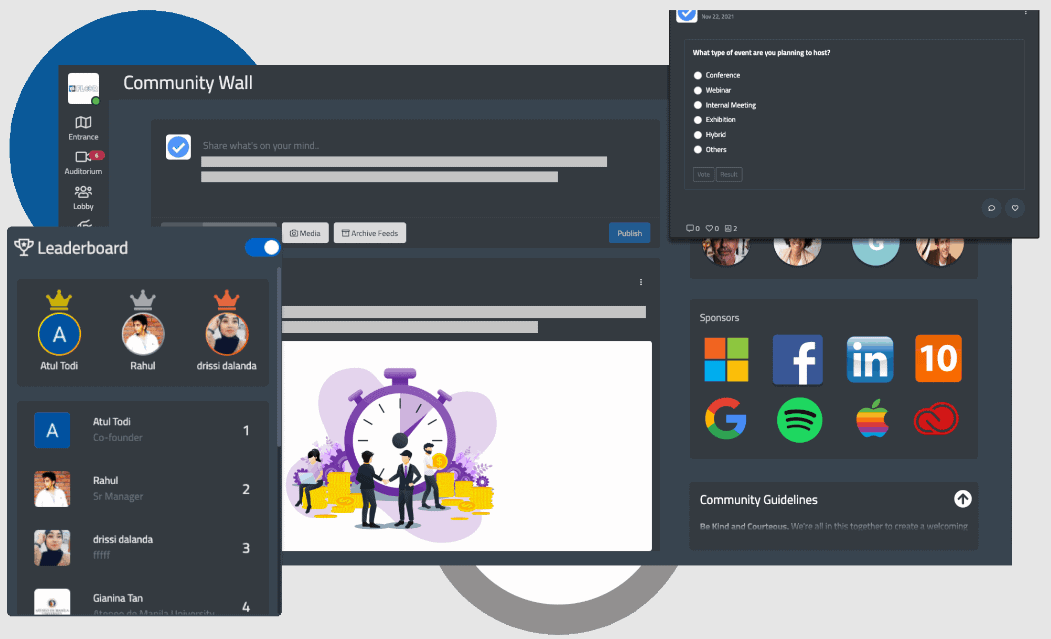 2. Vimeo
A video hosting and sharing platform, Vimeo allows its users to add a video to their blog and website even with zero technical knowledge. It is a video hosting website that is most popular for its super-fast, ad-free HDR player.
It is a LIVE streaming platform that broadcasts its videos with adaptive streaming and provides the best experience across devices, even in areas with limited bandwidth. It gets archived once the event is over and can be shared and embedded ahead.
Vimeo can help organize virtual events with its DIY production tool composed of browser-based broadcast tools. One can host webinars, product launches, and other large-scale virtual events on it. It offers integration with trending tools like Mail Chimp, HubSpot, and Marketo.
Some of Vimeo's best features include measuring performance analytics, multiple audience engagement features, rehearsal, backstage management, registration, reminders, and content creation.
3. Remo
Remo makes interactions easy with its visual top-down view, 2D map, and interactive rooms feature. It allows group networking via its 'table' feature where each floor is composed of 19 tables, having 6 seats each. For an event with 100+ attendees, it has the option of creating more floors.
The table model of Remo allows focused and intimate conversations while providing plenty of space for all participants. Event organizers can customize the room and tables according to their preference, and the attendees can select the table they wish to join. When the speakers begin their talk, the networking stops, and everyone can watch and participate in the discussion.
Remo provides an immersive, real-world experience and enables the participants to move freely through its virtual event space and communicate, engage, network, and collaborate.
4. HeySummit
HeySummit is a comprehensive event management platform that makes knowledge accessible for a global audience. One can easily manage every aspect of the event, like landing pages, ticket registration, feedback collection, and onboarding speakers through the platform.
It enables the event organizer to knit different sessions like workshops, QnA, live streaming, panel discussions, etc., together and put forward the best experience for the audience.
It allows integrations with other platforms such as Zoom and Hopin to provide the best wholesome experience. Speaker management, attendee management, analytics, and provision of landing pages are some of the popular features of HeySummit.
5. vFairs
vFairs follows an exhibition hall format through which event organizers can organize online conferences, trade shows, job fairs, and many other events. It provides a unique fun quotient by enabling a wide variety of avatar sets for users, which they can set according to their ethnicity or culture.
Both LIVE and semi-LIVE webinars can be hosted in 3D design, making a memorable experience for the attendees, speakers, and sponsors alike. It provides customization abilities and integrations to other software.
This platform is highly customizable and easy to use. It enables users to seamlessly navigate the content, live webinars, and network as per their preference. Delivering an immersive experience, this platform also provides in-depth reporting and gamification options.
Conclusion
With virtual event platforms becoming the standard event venues these days, it is a wise idea to have a handy list of the most reliable virtual event platforms that suit your budget. Among them, choose the platform that provides the desired customizability, flexibility, and utility you require. 
There are many virtual event platforms available today, but not all offer the features, flexibility, support, and prices offered by the platforms mentioned above. FLOOR, powered by 10times, stands out as the most flexible, user-friendly, and feature-rich virtual event platform that organizations prefer for their virtual events. Contact us today to know more about our end-to-end solutions.