The ability to build a sustainable online business relies heavily on an online community. The use of community software allows you to create an online community for connecting and engaging your audiences.
In addition to scaling content marketing from user-generated content, offering peer-to-peer support, hosting a knowledge base, and facilitating relationships with members, brand-led communities are versatile.
Even though online communities are widely recognized as powerful business tools, choosing the right platform can be difficult. There are several questions that you need to ask yourself before selecting an online community platform.
What customization options are available on the community platform?
What is the maximum number of members you can host in your community?
Are the designs based on modern social media trends?
How much does it cost?
Is it possible to incorporate parts of the community into your website or apps?
In order to make an informed decision, you need to consider these factors.
What are the Best Community Platforms?
Ideally, an online community platform should be customizable, use modern design practices, be easy to use, and make use of powerful gamification and moderation tools.
In addition, it should take care of hosting, maintenance, and security so that it can scale with member growth.
It is possible to enjoy these benefits with a cloud-based solution (SaaS).
Among the best online community solutions, we recommend FLOOR, Mighty Networks, and Tribe, followed by Discourse, Vanilla Forums, Slack (some alternatives), and Facebook Groups.
It is possible to create your own social network (also known as a social community) using these online community management platforms.
In order to build authentic relationships, you can connect your audiences, customers, partners, and employees under your brand. Using a collaborative approach, this will be a safe social platform for sharing ideas.
Here are our top picks for the best online community software to try this year.
FLOOR
FLOOR is a powerful all-in-one community platform that gives creators and planners everything they need to build, engage, and manage their communities.
The online community platform comes with a digital setup, equipped with content management, member management, and a built-in registration system for creating a great community-led experience.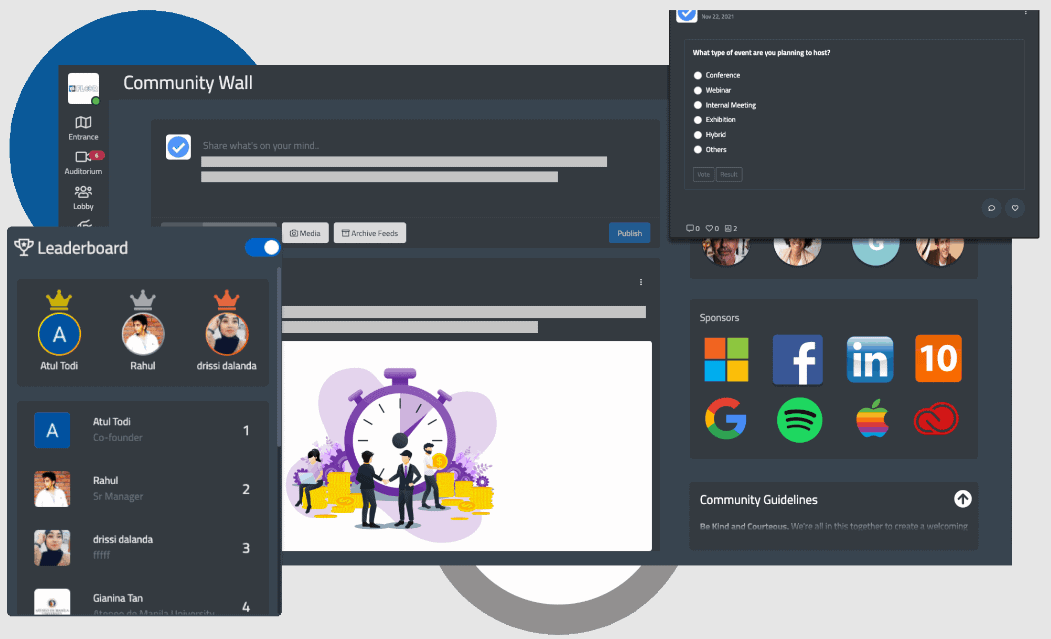 FLOOR allows members to share, interact and communicate with powerful networking tools and targeted opportunities. Community managers can engage community members with an intuitive social community feed to share ideas, discuss important topics, and socialize with each other.
The online community platform allows users to gain crucial insights into community members' activities, identify engagement obstacles and track their success with a real-time dashboard and analytics.
Tribe
As a community platform or knowledge base, Tribe can increase customer lifetime value by providing a hub for all of their questions and discussions. Besides creating posts, following others, commenting, upvoting, and sharing, they can also create threads.
Their ready-to-use widgets make things more interesting and interactive, such as shop windows and polls. You can also embed iFrame widgets and integrate them with other apps, such as Google Translate, Google Analytics, and Messenger.
It is used by companies such as IBM, Decathlon, and ConvertKit. The free plan is a good place to start and you can take it further from there.
Circle
With Circle, you can bring conversations, memberships, and amazing content to your audience in one place. It is endorsed by some great companies out there, including Teachable and Forte Labs.
In addition to creating a community for nearly any purpose, you can also create a community for:
Membership
Course
Coaching
Podcast
Newsletter
As a white-labelled solution, you can add your brand to it to keep professionalism intact in front of your audience.
Apart from that, you can organize discussions into categories, offer premium content for pro members, and create clubs according to people's interests so they can participate based on their interests.
You can create member profiles, post rich content, send direct messages, and do much more with this platform to make real connections with your audience. It is possible to integrate Circle with a wide range of third-party apps to enhance and automate your workflow even further.
MemberPress
The MemberPress plugin for WordPress allows you to create membership sites, and sell courses, and other digital downloads with full control.
This solution offers the option of managing subscriptions, granting/robbing access to specific content based on a user's plan, and integrating with apps such as PayPal, ConvertKit, and HelpScout.
The basic plan for MemberPress is priced at $149/year, as recommended by WP Engine and WPbeginner. There are lots of great features included in all the plans, including priority support, affiliate programs, content dripping, content protection, and much more.
Mighty Networks
Mighty Networks offers a 14-day free trial for its community platform, but it does much more than that.
Among other things, you can use it to create your own brand, build a website, sell online courses, and set up a membership model.
It can handle your audience's heavy lifting to make your business work for you rather than you working on it 24/7. It has a free plan to get started, and that's not bad at all, but the paid plans include integrations, premium analytics, moderators, etc.
You can access all the plans on the go with smartphone apps that are ad-free.
BuddyPress
One of the most popular WordPress plugins, BuddyPress, allows you to easily create community websites. The app has a lot of cool features that you won't find anywhere else, such as:
One of the most popular WordPress plugins, BuddyPress, allows you to easily create community websites. The app has a lot of cool features that you won't find anywhere else, such as:
Individual member profiles
Direct messaging
Instant notifications and read/unread signals
Ability to add members as friends
Interest-based micro-communities or groups
The plugin can be adapted to work with other third-party apps, extending its functionality even further. However, the best part about BuddyPress is that it is completely free to use. It does not involve any hidden costs. It takes just minutes to create your own community website after downloading, installing, and configuring it.
Disciple
With Disciple, you can sell courses, memberships, and build a passionate community. Brand it as yours and take advantage of millions of users in the app stores by opting for the mobile app. As well as controlling what you publish, you can also control who joins your community.
Apart from the usual features, here are some unique ones you should know about:
Ability to live stream
Utilize event calendar
Member moderation
Detailed analytics
Content reporting
In addition to being 100% secure and GDPR compliant, Disciple is regularly updated with new features. Their public API can also be used to integrate the community platform with other tools you may already use.
MemberSpace
With MemberSpace, you can create memberships for video tutorials, courses, directors, and anything else you want. Using this tool, users can lock access to specific web pages so that only members can access them. This tool is easy to use and does not require any coding experience.
It offers several features like:
Instant payouts
Abandoned signups
Upgrades and downgrades
Unlimited members
Connect unlimited sites
Automated upsells
Failed charge recovery
It is popular with CMS like Squarespace and WordPress as it doesn't impact any features or get locked to the system. MemberSpace offers a free migration service that makes it painless to migrate from any software.
It offers seamless integration with the podcast, directory Zapier, Stripe, Forum, and affiliate. Besides being mobile-responsive, the software offers VIP support. In addition, it can be added anywhere, can be styled custom, and can be accessed through APIs.
Conclusion
We explored some of the best community solutions based on ease of use, growth potential, and features. However, the question remains which community platform is best for your company?
It would vary depending on your specific needs. Having said that, the first step is to make a list of all the features you need and your budget. Then you need to match the community platform based on this list.
Also, it is crucial to consider the business goal you are trying to achieve and the way your community platform can help you measure your success.
The best part is that the majority of these tools have a free version or a free trial. As a result, you can test the community platform according to your specific needs.
If you're looking for my top pick, we recommend you get started with FLOOR. Book your free demo today.