Undoubtedly, event marketing has been one of the most popular marketing techniques in recent times. Big and small brands alike have successfully used it to create hype, generate interest among the public and convert them into their customers. However, with more and more companies adopting event marketing, ensuring an engaging and exciting event experience for your attendees has become crucial. But how?
Enter Gamification! As per a recent report by Markets and Markets, the global gamification business was valued at $9.1 billion in 2020 and is expected to touch a massive $30.7 billion by 2025. Virtual events and gamification might seem unrelated at first glance, but gamification has sped its way into the virtual event scene.
Gamification and Virtual Events
Virtual events have been fast replacing in-person events on a global scale. Along with the ease of attending the event from anywhere, virtual events also bring forth a gamut of opportunities for brands to connect to the common public.
On the other hand, the world witnessed the evolution of gamification, its acceptance, and its popularity as a successful marketing strategy. Event planners have wasted no time incorporating gamification into their virtual events to leverage the benefits of this beautiful combination. And why not? In this modern digitized era, where everything is on app and mobile, it would only be right to add gamification apps on virtual event platforms.
Gamification boosts the engagement level of the event attendees and opens a wide door of possibilities to convert the event into a mega-success. Many popular brands such as Starbucks, M&M's, and KFC have witnessed the tremendous success of their virtual events by including gamification in them.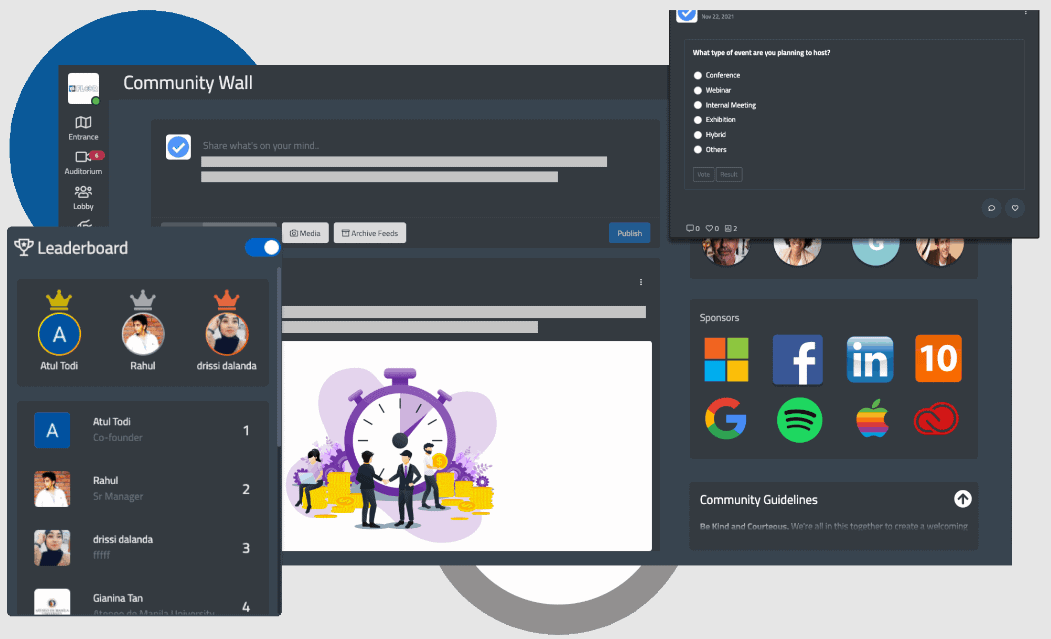 Gamifying your Event
Gamification of your virtual event doesn't necessarily mean including an AR or VR experience. You can also start with the basics. You can try some popular game formats such as scavenger hunts, contests with leader boards, Pictionary, trivia, and ice-breaker contests. But how can these fun activities be carried alongside an event?
Let us look at some tips you can use to incorporate gamification into your virtual event seamlessly.
1. Include it in your event marketing strategy from scratch
Gamification should be recognized as a part of your event marketing strategy during the planning phase, much before the event kicks off. This way, it can be included even during marketing campaigns to create a buzz among the audience. Let them know about the games you plan to host or organize during the event to increase their excitement.
2. Choose a robust event platform
A virtual event platform that helps you achieve your event goals is necessary for the gamified event to go well. The most crucial factor to add value to your event is a robust and comprehensive virtual event platform that supports gamification seamlessly.
The gamification options that you utilize in your event will essentially stem from the virtual event platform you use. FLOOR, a leading virtual event platform enables the hassle-free planning, organizing, promotion, execution, and marketing of virtual events with its latest features.
3. Don't separate the games from the main event
You will lose the whole motive of gamification if missions, challenges, and rewards are separated from the main event. Ensure that they are very much part of the event throughout. This will keep the audience motivated and on their toes.
Here are some ideas you can use at trade shows, corporate events, and conferences to implement gamification within the event.
The idea that there would be an announcement of the winners' names on social media and the virtual event platform can keep the attendees alert and excited.
Reward the winners with an activity related to the event. E.g., allow them to lead a breakout session or be a judge of one of the team activities.
Keep the leader board in vision at all times. Keep updating it on social media, the virtual event platform, or even a big screen if your event is hybrid.
Gamify the feedback. How? Simple. Whenever a particular session ends, push out surveys to gather feedback and insights in real-time. Reward the attendees with points, awards, or clues to a bigger game (like a scavenger hunt) to make it exciting and fun. The reward points should be swappable with a fun service, product, or cash.
Boost attendee engagement and communication with ice-breaker games. Design a series of challenges or ice-breaker questions that makes virtual networking fun and seamless.
A dedicated wall or space for the active and upcoming contests can be exciting for the attendees. It will also engage your online community and pique their interest level.
You can also award the attendees for just showing up, being punctual, or attending multiple sessions. A freebie or a shoutout to the early arriving attendees, a reward for the one attending most sessions, and a special prize for the one who participated in most games could be some ideas.
Benefits of Virtual Event Gamification
1. Great for attendees' networking
Networking is one of the top priorities of the attendees of any event. They look forward to learning more about the latest trends, industry news, sharing ideas, and getting inspired by fellow professionals and leaders. However, networking is not as simple as it sounds. It can be daunting and even complex, especially in a virtual setup. Gamification makes networking easier. With ice-breaking techniques and games, attendees find it easier to interact with each other, thus resulting in higher audience engagement.
2. Boosts organic engagement for stakeholders
Sponsors stay happy when they see and get organic engagement from potential leads. With the boosted engagement by gamification of the event, your attendees are more likely to feel interactive with channel partners, sponsors, and other stakeholders.
3. Provides social evidence
Nothing works better than a good attendee review, rating, and word of mouth. Gamification boosts the engagement levels at the virtual event, providing social evidence to the audience. This can be great for the brand's recognition, reputation, and reach. Also, the user-generated content produced via the games in the event can be used for social media marketing, videos, and vlogs.
Conclusion
With the immense competition in the event industry today, it can be challenging for companies and brands to offer an event different from the rest. Gamification of your virtual event can serve as a great differentiator from the competition and boost audience engagement at the same time.
FLOOR, powered by 10times, helps you gamify your event with its plethora of features that can be customized as per your requirement. You can book a FREE demo with us right here.