The COVID-19 pandemic prompted event organizers to make their events digital, leading to an uptick in virtual and hybrid events. With the global audience reach and increased attendance rates, planners are more than happy to make use of this opportunity to pivot to easily scalable event types. As per research by the State of the Event Industry report, the opportunity to increase attendance and audience reach is the most positive result of events pivoting to virtual.
To run a successful hybrid event, it is necessary to streamline the virtual and in-person aspects effectively. A good strategy always results in a memorable event experience. Due to the rapid growth in hybrid events, it has become imperative that all event professionals understand how to monetize their hybrid events. Here are the top 7 tips to monetize your hybrid event.
Tips to Monetize Your Hybrid Event
1. Sell Premium Tickets
One of the simplest and most effective ways to monetize your hybrid event is by selling premium tickets to certain attendees. The best way to accomplish this is to offer free but limited access to the event, and then encourage your attendees to purchase access to the entire event.
You can consider establishing different tickets packages, each with a different price. You can use premium tickets such as Early Bird Access, VIP Access, and Single-Day and Multi-Day Passes, as well as Group Tickets. Not only can such a ticketing strategy help to generate more revenue from your hybrid conference, but it can also help your company collect attendee-specific data based on the ticket categories purchased. You can use this to send out targeted marketing and follow-up promotional offers after the event.
2. Provide Sponsorship Opportunities
Sponsors are an obvious and sure-fire way to monetize any event in general. It doesn't matter if the event is virtual, in-person, or hybrid, sponsors are willing to spend money if it's valuable to them.
You should run ads and offer ad spaces for companies that are relevant to your event. You can sponsor different segments of your show, set up a virtual sponsored 3D space, or maybe even create a sponsored Q&A panel. You can build sponsor visibility through social media channels, rotating ad banners that endorse breakouts, and even gamification with sponsor messages. There are many ways you can provide sponsorship opportunities at your event, and the more creative the approach, the more you will be able to build sponsor visibility and generate revenue from your event.
3. Provide Value To Exhibitors
Exhibitors and sponsors can achieve all of the same objectives by using virtual exhibitor booths. In order to help spark the conversation, it is important to create a comprehensive profile that provides all the information attendees need. The attendees can be guided to the demonstrations and sponsored sessions through links. This allows you to generate some revenue from them.
You can also arrange a discussion panel for them. Additionally, on the virtual side, exhibitors have access to booth engagement metrics with a virtual platform like FLOOR. This will help them better determine the ROI of their sponsorship and get a deeper understanding of their audiences.
4. Use Merchandise For Additional Revenue
In hybrid events, many different people come together, so they provide a great opportunity to sell merchandise. Furthermore, you can monetize your event with a virtual trade show. The purpose of a virtual trade show is to allow attendees to make hassle-free and even discounted purchases of your products online. During the event, attendees can purchase products or services.
5. Sell Ad Spaces on a Virtual Event Website
It is most likely that you will have an event website and registration page that promote your conference to potential attendees. These virtual spaces can be monetized by selling advertisements on your event website and registration pages that attendees will visit to sign up and learn more about your event.
Your sponsors will be able to promote their brands, as well as lead people to additional content they would like to share. Additionally, sponsors will be able to easily measure their ROI based on metrics such as ad views and clicks.
6. Gamification
Integrating gamification is an efficient way for the attendees to network with particular sponsors or exhibitors at the event. Gamification includes challenges that reward the attendees, this acts as an incentive to visit more profiles, attend a demo, or meet a company representative. You can also offer a prize package to increase attendance and motivation.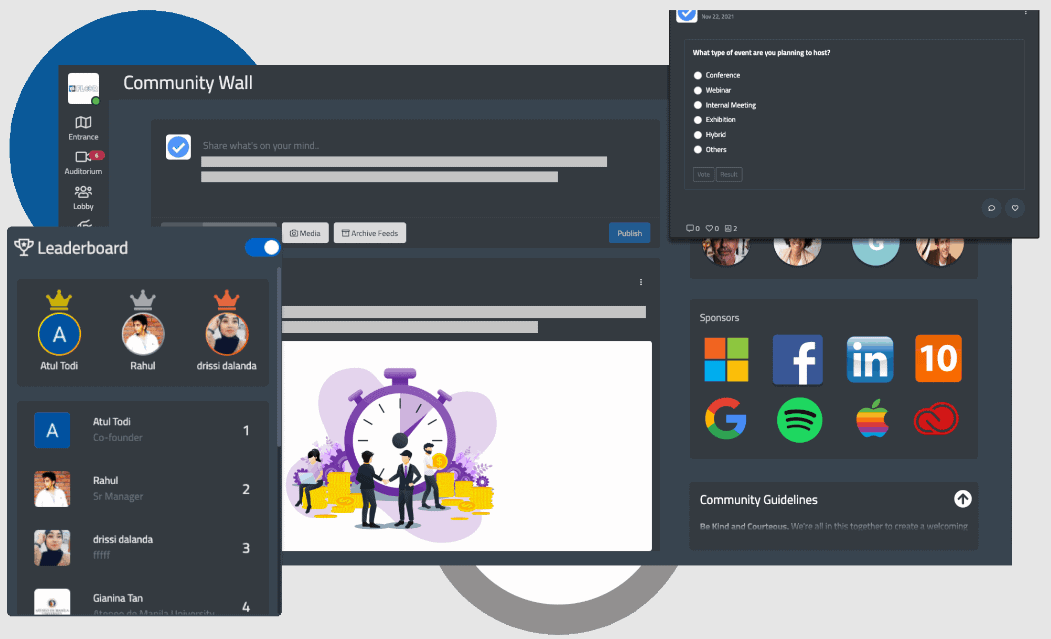 7. Use Data and Reporting To Your Advantage
Utilize event data and reports efficiently to track the success of your efforts. The data will be useful when planning your next event. For instance, the sponsors can check the data on visitor behavior and get an idea of what the audience really wants and use this info for better investments and ROIs on upcoming events. When collecting event data, always prioritize reports on in-person and virtual leads, gamification results, inbound leads, and event follow-ups details. By studying participant behavior, sponsors will be able to better understand the interests of their audience, resulting in smarter investments for maximum return on investment at future events.
Conclusion
The benefits of hybrid events are quite appealing. You should have a clear understanding of who your target audience is and how you can turn them into potential leads to generate more revenue. You can reap the benefits of your efforts by adding extra care to some aspects of your hybrid event. FLOOR is a one-stop solution for all your hybrid event requirements. From ticketing to marketing tools and real-time reports, you can find all the definitive features required for a successful hybrid event here. Contact us today to know more.